BLACK FOREST® LEGENDS FORMULA GRAIN FREE VENISON & LAMB WITH HERBS & BERRIES
Product Description:
The woodlands, dogs feel a sense of being at home there, surrounded by organic living life and fauna and all of it seems to be carried in the dense forest atmosphere. The scent of pine and spruce, damp earth and sunshine after a rain storm has passed through, Its a sense of rightness and being high on nature. Reflecting an earthy, woodsy character, this diet captures the taste and aura of the woodlands with an earthy unsophisticated character. We have taken great pride and invoked a lot of passion in finding the perfect balance for our Timberwolf Black Forest LEGENDS Grain Free Formula.
Black Forest Legends is highly useful formula for clearing up dermatologic and other conditions caused by adverse food reactions or the buildup of toxins. Made with fresh venison meat, lamb, whitefish salmon and herring oil with an array of supplemental flaxseeds, sunflower seeds and dehydrated alfalfa meal..This diet is fully balanced and has high levels of omega 3 essential fatty acids, from herring oil including EPA and DHA. In fact, has 1.45% omega 3 essential fatty acids by weight.Research suggests that a high ratio of omega 3 to omega 6 essential fatty acids (greater than 1 to 6 omega 3 to omega 6) may lower the incidence of cancer and may even help animals with cancer live longer than they would otherwise. higher levels of mixed tocopherols and vitamin E to preserve the high levels omega 3s.
EPA benefits the heart and circulatory system by promoting healthy blood triglycerides and blood flow. EPA also plays a role in the natural body movement of joints and can be beneficial to joint pain and inflammation.DHA is the most highly unsaturated fatty acid found in nature. DHA supports normal mental function, optimal memory, focus and learning.Included in this formula is our proprietary blend of herbal extracts including parsley, thyme, basil, fenugreek, anise seed and in keeping with our woodsy objectives blueberries, cranberries and apples.We do not put vitamin K3 (menadione sodium bisulfate) in any of our formulas because of health risks to animals and rely instead on high levels of foods that are high in vitamin k1 such as alfalfa, kelp, egg yolk, and liver.
Recommendations: Allergies, Maintenance, Puppy, Lactating, Working, Performance.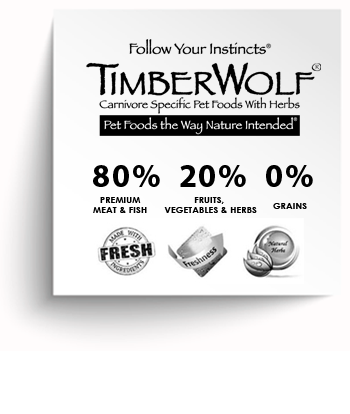 Ingredients:
Black Forest: Venison, Lamb, Spray Dried Whitefish (Fish Hydrolysate), Sweet Potatoes, Salmon, Salmon Oil, Pumpkin, Green Peas, Flaxseed, Dried Organic Kelp, Dried Saccharomyces Cerevisiae, Herring Oil, Dehydrated Alfalfa Meal, Dried Figs, Thyme, Ground Cinnamon, Garlic, Sunflower Seeds, Tomatoes, Apples, Blueberries, Cranberries, Whole Carrots, Dried Celery, Dried Beets, Dried Parsley, Dried Watercress, Dried Spinach, Lecithin, Choline Chloride, Minerals: [Zinc Amino Acid Complex, Iron Amino Acid Complex, Manganese Amino Acid Complex, Calcium Pantothenate, Potassium Iodide, Sodium Selenite], Vitamins: [Vitamin E Supplement, Vitamin B12 Supplement, Vitamin A Acetate, Niacin (A Source Of Vitamin B3), Vitamin D3 Supplement, Riboflavin (A Source Of Vitamin B2), Folic Acid, Pyridoxine Hydrochloride (A Source Of Vitamin B6), Thiamine Hydrochloride (A Source Of Vitamin B1), Biotin (A Source Of Vitamin B7), Citric Acid (A Source Of Vitamin C), Mixed Tocopherols (A Source Of Vitamin E and A Natural Preservative)], Prebiotics: [Chicory Root (Inulin)], Probiotics: [Dried Lactobacillus Acidophilus Fermentation Product, Dried Lactobacillus Casei Fermentation Product, Dried Lactobacillus Lactis Fermentation Product, Dried Bacillus Subtillus Fermentation Product], Papain, Yucca Schidigera Extract, Beta-Carotene, Fructooligosaccharides, Taurine, L-Carnitine, DL-Methionine, Rosemary Extract (A Natural Preservative).
We reserve the right to make small changes in formulations from time to time in order to improve performance. Labels on bags may vary slightly from website ingredient listing.
Guaranteed Analysis:
*Not recognized as an essential nutrient by the AAFCO Dog Food Nutrient Profiles.
Please provide your pet with lots of fresh water and regular vet visits for optimum health.
Kibble color may vary dependent upon the raw ingredients included in formulation at the time of production.
Working, lactating, whelping dogs and puppies should be fed near the high end of the above range. Please adjust accordingly. Because puppies eat much more per body weight than adults, some breeders recommend letting the puppy eat as often as it wants.
** A standard measuring cup holds 150g or about 5 ounces of food
---